"If the money grows into a tower,
increases with the worm's money."
Upper Lusatian phrase
Wendischer Turm built together with Reichturm
At the end of the Middle Ages, a time when Columbus was on his way to find the West Way to India, two gates of the city wall, only 150m apart, were reinforced with towers. So the Wendischer Turm and the Reichenturm were built at the same time. The platform is surrounded by a tin parapet with an octagonal helmet with a brick pyramid tip in the middle.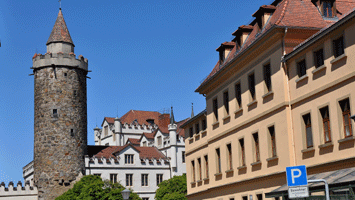 The Wendischer Turm was built to protect the Sorbs in Bautzen
The Wendischer Turm was named after the part of the town that was its task to protect. During the Middle Ages, it was inhabited mainly by members of the people we know better today under the name of Sorbs.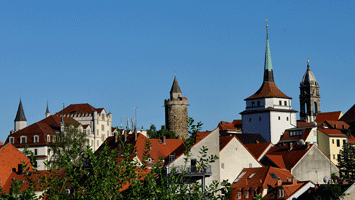 Wendischer Turm is one of the most artistic barracks in military history
Over centuries, the doorless and windowless substructure of the Wendish Tower served as a prison for debtors. Gottfried Semper saved the tower from demolition in 1841 when he was commissioned to build a barracks in his place. He oriented his planning on the Wendischer Turm and created the most artistic barracks in military history in the city of towers. In 1992 the exterior of the tower was renovated. Today it is only accessible via the Bautzen tax office. Currently, access for the public is not possible.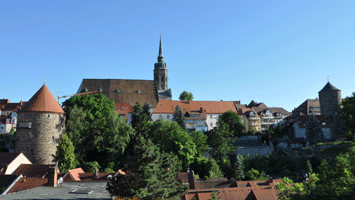 Guided Tours and Experiences in Bautzen