Welcome to Bautzen – English guided tour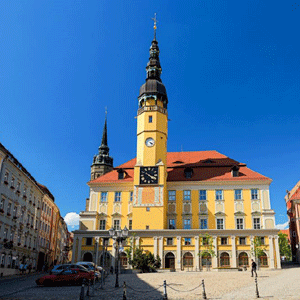 The English guided tour is an informative tour through the historical centre of Bautzen. You will get to know the more than 1000 year old city, whose townscape includes high towers and fortified bastions. Your tour leads you past the Old Water Art with Zwinger, the Matthiasturm with Ortenburg Castle to St. Petri Cathedral in Bautzen. In addition to its diverse architecture and lively history, the tower city captivates with fantastic views and insights. Visit the city of towers and let yourself be seduced.
Experience your very own individual city tour.
accomplishments
seductive welcome in the centre of Bautzen
approx. 1.5h classic English city tour through the historical centre of Bautzen
Interesting and informative facts from Bautzen's more than 1000 years of history
refreshments per person during the city tour (optional)
one hearty meal per person during the city tour (optional)
Followed by a tour of the city with a partner of Turm-Stadt (optional)
(The experience can be booked for groups of 2 persons or more. Please note the selection of the right group package for your Tower-City experience)